WELCOME TO FACEBOOK FRIDAY!!
If you've been following me lately, you know how much I adore Facebook. I've connected with the most awesome people through their fan pages over the past couple weeks.
Please LIKE #18 Bless Others With Cards & be sure to say "Hi" on my wall so I can Like you back. I'm doing nightly Shout Outs for my fans to help them get more fans and we are having a blast!!! I will be sure to include you if I "see" you. :)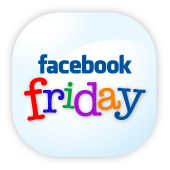 BROUGHT TO YOU BY YOUR LOVELY HOSTS
1. Add your facebook page to the linky tool below
2. Like your hosts in the #1 and #2 spot
3. Like the person in the spot above yours and then like whoever else you want, the more the merrier!
**Be sure to leave a little comment on their fb wall with a link back to your fb page so they can like you back**